Lindos combines relaxation and intense life during the summer months, as well as a journey into the past with the natural beauty and wonderful beaches, making it one of the most popular destinations on the island. The Acropolis of Lindos (offering one of the most beautiful views of the sea) is classified as a monument, like the Medieval Town of Rhodes, and as a result receives thousands of visitors each year. The Acropolis is located on a hill accessible by foot or by donkey.
Mansions with history
Lindos village has its own unique character with the white houses beneath the Acropolis. But what truly catches the attention of any visitor are the famous mansions, with their date of construction being engraved in their front doors. Some of these beautiful houses have been converted to luxury apartments, restaurants and cafes. Those mansions belonged to the captains of the 17th-18th century.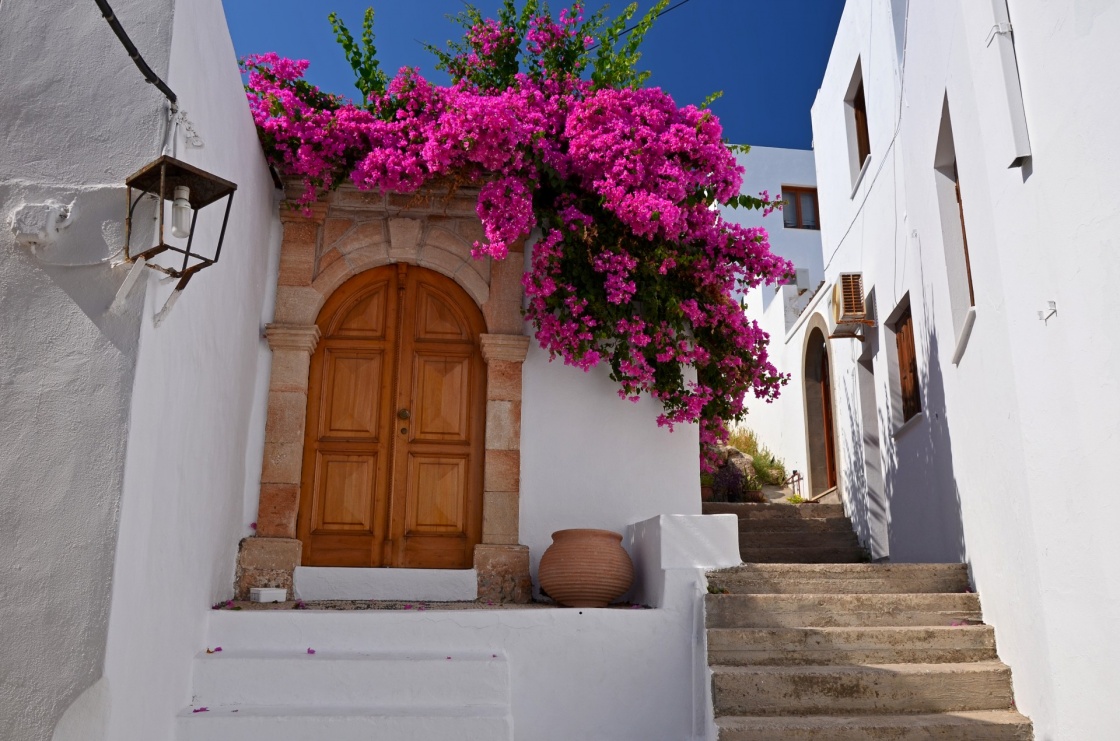 'Greek house in Lindos town, Rhodes island' - Pawel Kazmierczak / Shutterstock
This village has a unique square with a giant tree in the middle, perpetually watered by the fountain with spring water, the construction of which goes back to the time of knights. You can find here an awarded - for its Greek cuisine of course - restaurant, with many famous visitors. Next to the square, you will see the famous donkeys who patiently bear the visitors on their backs to move them up to the Acropolis. It's a unique experience for everyone to live.
In Lindos, visitors can also enjoy good food like fresh fish, as well as have fun at the many bars. Also they can buy nice souvenirs and handmade embroidery from the souvenir shops.
DON'T: The shores of Lindos are extremely varied with a number of bays. The sea here is shallow with sand and crystal clear waters, so it is suitable for children but not for diving.