Afandou is one of the oldest villages on Rodos island, ideal for vacations that will give you a feeling of a... lazy happiness. It is built in the natural hollow between three hills in order to be invisible (in greek 'afando', from where it is named after) from the sea and thus protected from pirate raids. Along the beach of the village, there is a modern golf course (with 18 holes) which is one of the best in Greece and famous around the world because it was designed by the well known architect Donald Harradine, who has also designed a very large number of golf courses in Europe. Visitors can even see monuments and ancient graves, all over the place. And also churches like the one of Virgin Mary's and Virgin of Katholiki's with the amazing wall paintings, dating from the 17th century. Especially if you happen to be here in August, you will experience the great feast of the church.
This village is also famous about the huge organized beach (5 km) with crystal clean waters and pebbles. Here you don't need to worry if the beach is crowed or if you will put your towel tight to someone else, because there is a place for anyone! Sports like windsurfing and pedal to the sea are available for all visitors. To the end of that beach is another beach called Traganou (but only a small part of that beach is organized). To the left side of Traganou are many caves that adventure lovers can explore. Only 7 km away from Traganou, you can take a stroll on the Seven Springs. It's a great location with lots of pine trees. The area has a lake consisting of seven springs. Tip: bring a jacket with you, because here, the temperature is low.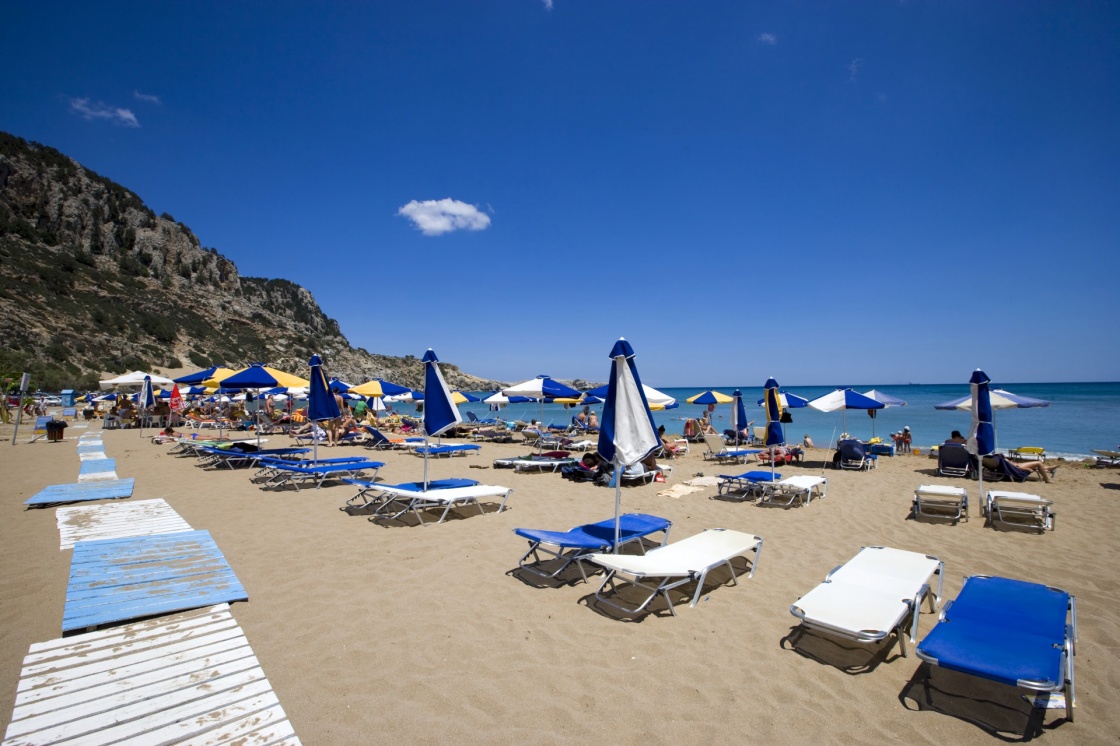 'Afandou (Afantou) beach, Rhodes island, Greece' - Yiorgos GR / Shutterstock
If all you need is fun, visit the crowded centre of Afandou. Dress casually, and restaurants (you must taste the Pitaroudia-meatballs with chickpeas), cafes and bars, flea markets and stores, are waiting for you! Don't forget to go to the colourful handmade carpets exhibition, maybe you will discover here something that you like. The locals say that some of the carpets are magical! Who knows?
DO: Take a ride with the little train from the central square of Afandou and enjoy the view of the endless beach.
DON'T: Swimming is one of the best things that you can do here but be aware, as the water deepens abruptly.